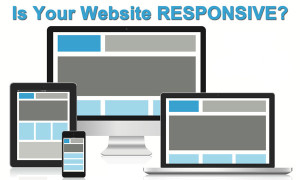 Next week, Google will roll out their latest algorithm update, and it is all about rewarding responsive (mobile friendly) websites. Since more than 50% of Google searches are conducted on a mobile device, Google wants to make sure that it spits out results that are friendly to the user.
So I guess the bottom line is this: YOUR WEBSITE NEEDS TO BE RESPONSIVE. We have known this for a couple years, simply because non-responsive websites are a pain to use on your iphone! But now, Google is forcing the issue, and I am glad! If your website or blog is not mobile friendly, then the chances are pretty good that it is behind the times and needs an update anyway.
There are a couple easy ways to find out if your website is responsive:
Check it out on your smart phone. If the site looks exactly like your desktop version, but a lot smaller, it is not a mobile friendly website. Time to update.
You can also Click here, type in your website URL, and Google Webmaster Tools will let you know if it is ready for the update.
What to do if your website is not mobile friendly?
If you are using an open source CMS like WordPress, start by checking if your theme has responsive capabilities? You may just need to enable the theme's responsive layout….and you are done!
If you have an older theme that does not have a responsive layout, you will just need to purchase a new theme that does. This may take a little time re-configuring the look of your site with the new theme, but will be worth it. There are some great responsive theme options at Themeforest.
If neither of these options apply, you will have to get with your web developer, and come up with a solution.
The Google update will take place on April 21, 2015, so you still have some time to get ready. Current sites that are mobile friendly, and ranking for specific keywords should not experience any drop in page rank. If you found this article helpful, share with friends using the social media links below.
Comments
comments